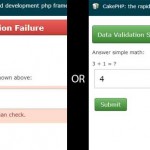 Here is the latest CakePHP Captcha support for CakePHP Version upto 3.x.
Download for CakePHP 3.x
Download for CakePHP 2.x
NOTE:
For best
Image Captcha
results this component
requires

GD

and

Freetype

support enabled
. Please check your phpinfo() to know whether your server supports this (See image below). Contact your hosting provider if any of these libraries is not enabled.