I tried to add a featured image to the previous post i created but it gave me the following error:
Unable to create directory uploads/2014/08. Is its parent directory writable by the server?
The same error occurred when i tried to add a new media item to the same post.
What was it?
Recently i changed my hosting provider. Due to this change the address to default upload directory was obviously changed. In earlier versions of WordPress (prior to 3.5 i guess) there was an option to enter the default upload directory in the Settings > Miscellanous section. I have had it entered there so i wanted to update this option(see below)
If you see a similar error you also might need to update this option.
How to fix "unable to create directory uploads" error?
If you have latest WordPress version installed (which logically you should) go to Settings > Media and empty the "Store uploads in this folder" field and save. It will now set to default which is wp-content/uploads. If you have older version (which is not recommended) you might need to go to Settings > Miscellaneous and do the same action. The error "unable to create directory uploads" should have been fixed now.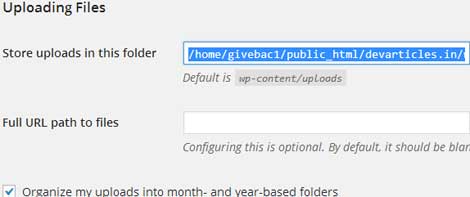 What if i wanted to keep a custom upload path?
See How to Change the Default Media Upload Location in WordPress 3.5.