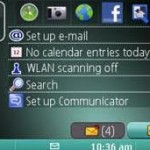 To change the application shortcuts and home screen applications in Nokia E5 do the following:
Go to Menu > Control Panel > Modes
You will see the current mode selected (you may not want to change it)
To change shortcuts open "Application Shortcuts"

Set your favorite shortcuts (up to 6)
Save and go "Back"
To edit Home Screen Applications open the "Home Screen Applications" tab.
Set up your favourite applications for the home screen.
Go back.