Here's a quick guide to how to enable Hindi typing keyboard layout in Windows7 (professional)
— Go to Start > Control Panel > Clock, Language, and Regions > Change keyboard or other input methods
— Click Change Keyboard button.
If Hindi is not added to Installed Services yet, click Add button. Check Devnagari – INSCRIPT from the list and press OK. Devnagari – INSCRIPT is now added as an alternate keyboard layout in your Windows7 machine (figure below).
To switch between English and Hindi keyboard layouts you need to press Alt+Shift keys. You may need to get used to Hindi typing keyboard layout which is shown below for reference(click for large image).
Since Google has removed the Google Hindi Input Tools as a standalone installable software for Windows operating system, the only alternate to make Typing in Hindi is to use Google's online service here. Another alternate to use install Google Chrome extension provided here. THERE IS NO DOWNLOADABLE TOOL FROM GOOGLE SO DONT BE FOOLED BY ONLINE SOFTWARE PROVIDERS. Look at the following screenshot: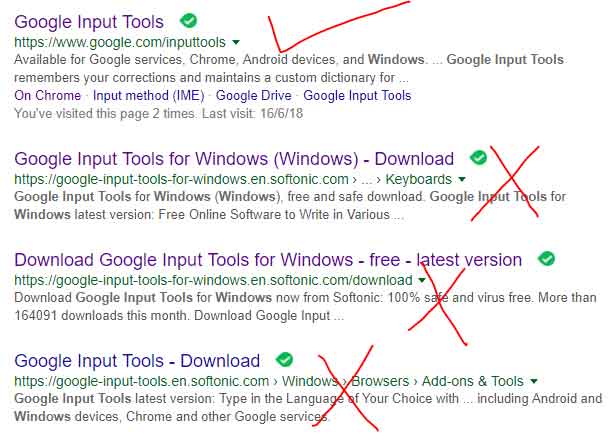 Alternatively, there are many available software tools which one can download and install in order to use as a typing tool to support Hindi typing. I dont have a particular preference at the moment but i would definitely suggest this tool from Google which gives user a phonetic way to type in Hindi.
After installing this tool it gives user an option to select a keyboard layout from taskbar. See Figure below.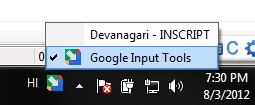 After selecting Google Input Tools user can type phonetically, even in your wordpress blog post editor or while updating you facebook status, using Google's Hindi Phonetic Typing Tool. See image below.