Three days ago when i tried Facebook in my Mozila Firefox browser a different thing occured. The landing page before login would show just fine but after logging in the home page would go just screwed. No page layout design formatting at all and it kept showing Waiting for "s-static.ak.facebook.com"... at the bottom left status bar of the browser.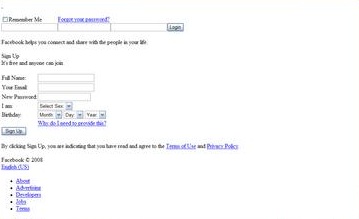 Being a web developer i could assume that the page was unable to load the CSS (cascading style sheet) files which were located at s-static.ak.facebook.com server. Thinking that it might be a browser cache problem or something similar i did clear browser cache, even i cleared everything from the recent history tab, but it wouldn't fix the problem. Now i tried it in Google Chrome and Internet Explorer 8 but the problem persisted. Strangely it happened to facebook website only, all other website would open just fine. Thinking that this might be a loading issue at the Facebook servers i waited for almost a day before i called my friend but the site worked just fine at his end.
Finally i decided to take help from the web. Along with many other remedies suggestions they had suspected that this might be a malware which was preventing contents to be loaded from some specific locations. Taking a note of that i ran the trial version of Malwarebytes' Anti-Malware software on my Windows 7 OS and it fixed the problem successfully.
If a similar thing happens to you, among other suggested remedies, consider running an anti malware scan, perhaps that might fix the problem.