First of all, you do not find a "adbrite vs adsense" comparison here. If you are looking for "adbrite vs adsense" comparison and are in a hurry you are better to leave this article. This post contains my personal thoughts on a "adbrite vs adsense" comparison article i found over the internet recently.
I searched Google for the term "adbrite vs adsense" that morning. I followed the first link at the top which titled "Adbrite is better than Adsense". It took me to "www.squidoo.com/Adbriterocks". As it is obvious from the title the article points out shortcomings of Google Adsense and seems to be urging users to prefer Adbrite on Google Adsense. Also it provides some Adbrite add banner link for users to signup (with an affiliate id attached, to earn commissions from Adbrite of course).
I have no issue with the blog post at all. But, as soon as i scroll down the page the comparison becomes quite interesting. The blog post page itself has as many as five Adsense ads over the entire page and surprisingly not a single Adbrite ad. Yes there are a few referral links for users to sign up at Adbrite but no ad.
See below the screen shots taken from the very page to see what i mean. I have marked adsense ads with yellow bordered rectangle.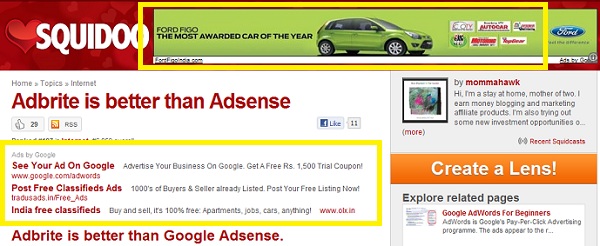 I am not sure why they are pulling Adsense' leg. This is something like asking people to follow something which you do not like to do or follow yourself. Either this is a "Tongue And Cheek" kind of article or it is a very much professional article indeed. But in our language it is called "Biting The Hand That Feeds You" kind of thing. Make me correct if i am wrong.