Like many bloggers I was looking to earn money online through affiliate marketing. Unfortunately I included Bharat Matrimony Affiliate Program as one of the affiliate partner. But eventually I was proved wrong. Why?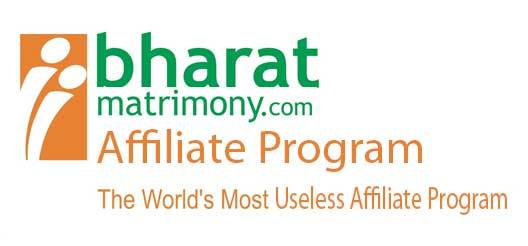 It is just not about the money but the problem is that people at Bharat matrimony won't reply to your query. It's a shame that they use name Bharat for their fraudulent services.
I asked them three time to tell me how could I withdraw money to my account but they wont respond. Also after I contacted them my earning started to show 0 from the following month.
I had been using Bharat Matrimony Affiliate Service to show ads on my website for last three years and earned a few thousand Rupees through it. I don't know the exact amount because they don't show total earnings. Also to view your earnings you have to go to every month from the list which is quite annoying. Also I didn't bother because it would be just a waste of time.
I thought it was natural but after one whole year it is still 0 each month. In the meantime traffic to my website has increase more than double in last one year so I can't believe that it was not getting any clicks.
I think it started to show 0 after I contact them last year and asked about the procedure to withdraw money to my account. Now I am certain that Bharat Matrimony Affiliate System is a fraud and it is cheating most of the users if not all.
Bullishit Reporting System
Also the reporting section for Bharat Matrimony Affiliate Program is much below the standards. It does not give you option to see total earnings. Also you have to go to select every month and year from list to get results for a month.
Also there is no option to see the number of clicks and there is no option to download reports. Don't even think of any kind of analytics there!
If there were standards for affiliate services Bharat Matrimony Affiliate Program stands outside the door of the bottom level.
Stay away from Bharat Matrimony Affiliate Program
It is my humble advise to all bloggers to stay away from Bharat Matrimony Affiliate Program. Some big media houses on India seem to be using this Affiliate Program. I am not sure why but BM must be respecting them for the obvious reason.
As a beginner or even as a good traffic website owner there is no guarantee that they would respond to your queries. There is no guarantee that they will pay you what you deserve for your hard work. I came across very bad reviews of both Bharat Matrimony Service and their Affiliate Program. It is quite clear that they are fraud.
If you are looking for good affiliate programs in India check this list of Top 5 best Affiliate Programs in India in 2019. Or if you are interesting making money online check this post How to start a free website and start making money online?